Greene Overhead Door prides itself on bringing you excellent customer service. For your comfort and reassurance, we will promptly attend to your specific needs, explain the status of your garage door repair or overhead door installation project, and educate you on proper door care and maintenance. We provide free estimates so you can be financially informed, and we back up our work with a variety of guarantees and warranties for your peace of mind. Greene Overhead Door has been installing and repairing overhead doors in the Capital Region for more than a decade. When it comes to the security and beauty of your home, you can rely on the professionals at Greene Overhead Door for garage door installation and repair you can trust.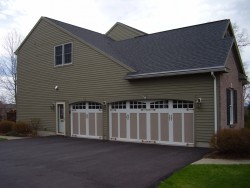 Some of the services provided by Greene Overhead Door include:
Residential overhead door installation
Garage door spring repair
Garage door spring replacement
Garage door opener installation
Garage door opener repair
Garage door cable repair
Overhead door track realignment
Garage door panel repair
Don't stand for a dilapidated garage door for your home, or substandard garage door installation. Greene Overhead Door has your safety and security in mind. Call today for free estimates and service you can rely on!
Safety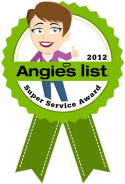 Overhead garage doors are so commonplace that most people don't consider their potential dangers. Fact: They are very often the largest, heaviest moving piece of equipment in any home. For the safety of your children, your pets, and yourself, don't stick with an archaic door that lacks safety features such as emergency releases and an automatic reversal system which detects when there is something present between the bottom of the door and the ground. Also, old doors often are in dire need of repairs, or standard maintenance, such as oiling rollers and hinges and cleaning the tracks. Be in the know about your door, and stay on top of its preventative care. From installing a new garage door opener system with the latest safety features to ensuring your garage door repairs are done safely and correctly, Greene Overhead Door is your garage door contractor in Albany and the Capital District. Contact our professionals to learn more about the safest possible garage door and what specific repairs your garage door may need.
Security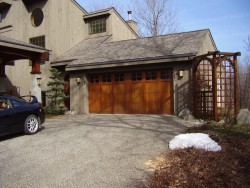 A garage door that is stuck open is like a magnet for debris, wild animals, and maybe even intruders. Take charge of your home and provide it with the best possible security when you improve your overhead door. The professionals at Green Overhead Door will ensure that your door locks and closes properly when you tell it to close. Don't leave your home open to danger–let our team bring you garage door installation and repair to provide the best in security as well as garage door workmanship. With the best quality materials to install and maintain the door, and state-of-the-art, rolling-code garage door openers, trusting Green Overhead Door means adding another layer of protection over the people and possessions you hold dear. For more information, contact our experts today.
We're here to bring you the absolute best in garage door services, safety, and security!