Sproing! Uh-oh. You've taken one too many trips to the grocery store, and with loud exclamation, one of your garage doors springs has gone on strike. Now, instead of being a helpful part of your home, the garage door is a terrifying mechanism that falls fast and slams into the ground or just doesn't open at all. Don't let your garage door become both a safety hazard and a potential source of further damage to your property. For expert garage door spring repair and garage door spring replacement throughout the Albany area, call Greene Overhead Door, your local garage door spring installation experts.
Garage Door Spring Repair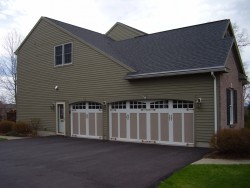 Garage door spring repair may be necessary for many reasons—there could have been an error in the original installation or perhaps a problem in the area which holds the springs in place. When undertaking a garage door spring replacement, the experts at Greene Overhead Door take into account every factor which contributes to a spring's smooth operation, such a lift drums, winding cones, lift cable placement, proper spring grade, and more. There are two different kinds of garage door springs—torsion springs on the top of the door, and extension springs which run perpendicular to the door. Both kinds of springs—especially torsion springs—are under a great deal of pressure and contain a lot of potential energy. Don't risk your safety or eat up time trying to understand how the physics of a spring will affect your door's performance. Leave that to us. Unwinding and rewinding the springs, calculating torque, determining accurate weight support—we do it all. And, unlike amateur repairs, Greene Overhead Door is sure to do your garage door spring repair or replacement safely and effectively, protecting you and your family from incorrectly installed–and dangerous!–springs.
Garage Door Spring Replacement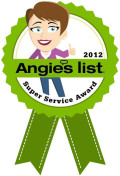 To ensure even performance, matching parallel springs should be replaced at the same time. In order to know what type of spring and what degree of tension is required, you require the help of an expert who is educated in such calculations, like the professionals at Greene Overhead Door. With our years of experience, we will be able to quickly diagnose your garage door spring replacement needs. Each garage door spring replacement project requires specific spring types and specific torque measurements as determined by your garage door's height, weight and designated safe falling speed. No matter what kind of door you have, no matter why your springs came un-sprung, Greene Overhead Door can help. Call or e-mail us today to get started.
Springs are more complicated than they look. After all, these little springs are responsible for handling a door that weighs hundreds of pounds. When you're dealing with all that potential energy, you'll want to know what you're doing. So if you don't, don't risk it! Call the experienced, fully insured staff at Greene Overhead Door, and we will have your door working faster than you can say, "Open sesame!"